Learn More About Our Effective Hemorrhoids Treatments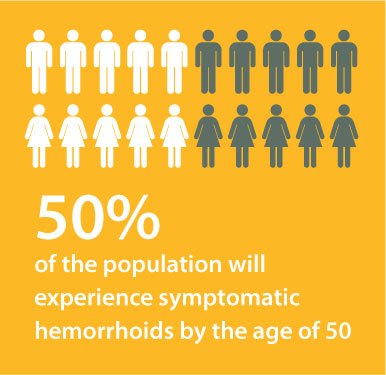 Hemorrhoids are nothing to be ashamed or embarrassed about – nearly 50% of the U.S. adult population will suffer from them by the age of 50. For many people, ointments and creams only mask the symptoms to provide temporary relief. These over-the-counter hemorrhoid treatments do not address the root of the problem causing the pain, itching, bleeding, and overall discomfort associated with hemorrhoids. If you're serious about getting rid of hemorrhoids once and for all, it may be time to consider an alternative. Centers for Gastroenterology now offers the CRH O'Regan System®, a simple, painless, and effective way to treat hemorrhoids. If you're seeking the best hemorrhoid treatment in Northern Colorado, contact us today to learn more about our innovative treatment options.
What Are Hemorrhoids? What Causes Hemorrhoids?
Also called piles, hemorrhoids are swollen, enlarged veins or blood vessels that form inside the rectum or near the anus, causing severe pain, itching, and bleeding. Most people are born with hemorrhoids, but they aren't a problem until they become enlarged and start exhibiting symptoms. Putting pressure on your belly or lower extremities causes hemorrhoids to become swollen or inflamed. Pelvic pressure from weight gain or strain from lifting heavy objects are common causes of hemorrhoids. It's estimated as many as one in 20 U.S. adults suffers from symptomatic hemorrhoids, with the likelihood of developing issues from them increasing as you age. While hemorrhoids affect patients of all ages, races, ethnicities, and genders, the following are risk factors that increase your chances of developing issues with them:
Being overweight, obese, or pregnant
Eating a diet low in fiber
Having chronic diarrhea or constipation
Regularly lifting heavy objects
Spending a lot of time on the toilet
Straining or pushing too hard when having bowel movements
What Are the Different Types of Hemorrhoids?
Depending on where they form, there are different types of hemorrhoids, including the following:
Internal – Internal hemorrhoids develop inside the rectum, which is what connects your colon (large intestine) to the anus. Internal hemorrhoids may bleed, but they aren't usually as painful as external hemorrhoids.
External – External hemorrhoids develop around your anus but underneath your skin. This type of hemorrhoid is usually very itchy and painful. They may bleed, sometimes even clotting if they fill with blood. This may cause additional swelling and discomfort.
Prolapsed – Prolapsed hemorrhoids stretch their way outside of the anus and may be internal or external. This type of hemorrhoid may also cause significant pain and bleeding.
What Are the Most Common Symptoms of Hemorrhoids?
Most people with internal hemorrhoids don't even know they have them unless they prolapse. The most common symptoms associated with hemorrhoids include:
Pain near the anus, especially when you sit
An itchy, irritated, or burning anus
Rectal bleeding (blood on toilet paper or in the stool or toilet bowl)
Hard lumps near the anus that may feel sore or tender to the touch
Mucus discharge
Sensation that your bowel isn't empty after going
An anal fissure is a tear in the lining of the anus, which can produce similar symptoms as hemorrhoids. Patients with certain gastrointestinal disorders, such as colon cancer, Crohn's disease, or ulcerative colitis could also experience rectal bleeding and similar symptoms. Your doctor may need to conduct a digital rectal exam or flexible sigmoidoscopy procedure to determine the exact cause of your issues.
What's the Best Hemorrhoid Treatment to Alleviate Discomfort?
For some patients, hemorrhoids may come and go without any treatment. Many use over-the-counter medications such as lidocaine or hydrocortisone to alleviate their symptoms. Drinking more water, increasing your daily fiber intake, soaking in a warm bath daily, or softening your stool by taking laxatives may help ease your discomfort. However, many people seek professional medical help if their symptoms don't show any sign of improvement. Healthcare providers may offer laser hemorrhoids treatment involving heat to shrink hemorrhoids, sclerotherapy involving chemical injections, or rubber band ligation to cut off the blood supply to the enlarged veins. Occasionally, a patient may require a hemorrhoidectomy, which is surgery to remove prolapsed internal hemorrhoids or large external ones.
Hemorrhoids are not always painful and do not usually present a life-threatening risk. However, if they aren't treated, some patients may develop more serious conditions, including blood clots, anemia, skin tags, infections, or strangulated hemorrhoids, in which the muscles in the anus cut off the blood flow to internal hemorrhoids that become prolapsed. Contact your doctor immediately if you experience fever, chills, severe rectal bleeding and pain, abdominal pain, or chronic constipation or diarrhea.
Hemorrhoid Treatment With the CRH O'Regan System®: How It Works
Centers for Gastroenterology is proud to treat hemorrhoids using the innovative CRH O'Regan System®. The CRH O'Regan System® offers patients a painless, proven effective solution to the problems associated with hemorrhoids through a unique take on a procedure called hemorrhoid banding, or rubber band ligation. Much less invasive than a surgical hemorrhoidectomy, hemorrhoid banding with the CRH O'Regan System® is a simple hemorrhoids treatment that can be performed in just minutes with little to no patient discomfort.
There isn't any preparation or sedation involved, and most patients are even able to return to work the same day. Gentle suction is used to place a small rubber band at the base of the hemorrhoid in an area where there aren't any nerve endings. This only takes about 60 seconds. After a few days, the hemorrhoid will begin to shrink and fall off – you probably won't even notice when it does!
Schedule an Appointment at Centers for Gastroenterology Today
To learn more about how the CRH O'Regan System® can take of your hemorrhoids once and for all, please visit their website at www.crhsystem.com or contact our office today to schedule an appointment. We can help you get back to living a more comfortable life that is hemorrhoid-free. If you're a new patient, you'll find billing and insurance information and patient forms online to expedite the patient check-in process on the day of your appointment. Reach out with any questions or concerns!
Watch a video to learn more about the CRH O'Regan System®
To read more about how the CRH O'Regan System® can take care of your hemorrhoids once and for all, visit their website at www.crhsystem.com or call our office today to schedule an appointment and get back to living a more comfortable life!